It's called Ghosts in the Graveyard.
I found this at the
>>Kraft website<<
, along with a bunch of other great halloween recipes.
I also found this recipe:
(I didn't make these ones)
I used the same recipe at cub scouts, but instead of scary faces with green pudding, we made jackolantern faces with orange pudding.
And I found a bunch of great ideas at >>Tip Junkie<<,a great blog with all kinds of great ideas.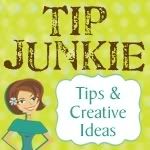 (Thanks Ally).
Thanks to Kraft foods, blogs like Tip Junkie, and lots of trial and error,
You too can be domestic! Ha!